The Best Chair Mat, a Perfect Glass Solution by GlassMat
The GlassMat office chair mats are the affordable, elegant and permanent Glass solution unlike any other. Its optical transparency and clarity beautifies and protects. Clear Chair mats for plush carpet, hardwood floors and other flooring accomplish all this while dramatically enhancing your office environment.

By not retaining indentations, a GlassMat office chair mat will enable you to glide smoothly and effortlessly reducing fatigue and increasing productivity while providing excellent back support. Unlike plastic chair mats that need frequent replacing, our GlassMat clear glass chair mats are incredibly strong and will last forever.

GlassMat will save you time and money making your life easier from the minute you put it down.
Glass Mats are truly the affordable, elegant and permanent office floor mat for any home or office environment. We have standard desk chair mats ranging from small sized desk chair mats to large office floor mats and offer custom sized and shaped to fit your office at no extra charge.
Home Office Chair mats and Glass Pads
Our Glass Mats are also ideally suited to many residential uses such as home office chair mats and desk pads as well as adding an attractive and functional interior design element throughout your home. Our custom glass pads can function as stove backsplashes, kitchen mats,dining room floor mats, countertops, table tops or as attractive floor mats for your living rooms.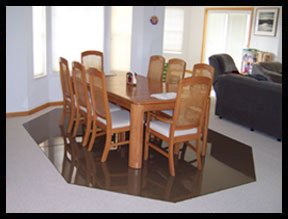 About GlassMat Chairmats
GlassMat is a 100% female owned corporation whose corporate headquarters and shipping warehouse operates just outside of Denver in Louisville, Colorado with several employees, incentives and safety programs.
GlassMat's liability insurance is the highest level of coverage insuring your home and office delivery safety. We believe in supporting the communities where we live and work so we support the State of Colorado by purchasing ALL supplies including cardboard, banding, etc. from local companies.