Article taken from dailycamera.com
Power glide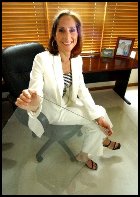 Marty Caivano
Marsha Savin Livingston, owner of GlassMat, shows off her product, a glass surface for office floor mats that allows chairs to glide easily.
Entrepreneur touts ultimate office mats


By Sarah Toland, For the Camera
July 19, 2004

Office mats may not be the hot topic at the water cooler, but they're a fixture at many workplaces And there's a difference between a good, strong mat and crackled, old plastic floor mats.

This was the rationale of local entrepreneur Marsha Savin Livingston when, last fall, the Gunbarrel resident developed the GlassMat, an office mat made out of glass. The concept is simple-sounding enough, but the product, Livingston says, provides a whole lot more than a standard plastic pad.

The GlassMat offers a firm, friction-free, unbreakable and scratch-resistant surface for use under any chair-and-desk configuration in both commercial and residential offices. The benefit to the recipient, Livingston says, is increased mobility, decreased fatigue, overall aesthetic enhancement and, given the product's lifetime guarantee, a permanent solution to perpetual plastic mat replacement.

"You will never buy another chair mat," says Livingston, who notes that most office mats don't last longer than a few years before becoming ripped, indented and otherwise worthless. "You literally glide (on the GlassMat). There's no tension on your legs. It improves your back support because the glass is so firm."

After working full-time in various office buildings across the county since the age of 17, Livingston, now 45, knows the intricacies and accompanying irritations of office living. The former California resident has worn an assortment of corporate hats, from director of marketing at a San Francisco-based architecture firm to paralegal, her most recent stint, for a law office in Boulder County.

"I was frustrated with the expense and inadequacy of many chair mats," says Livingston, who moved from the Bay Area to Gunbarrel in the winter of 2002. "I had completely discarded using a mat. When I saw (the idea) for GlassMat, I just thought 'Oh my God.'"

This iteration led Livingston to launch her own company, Tech-Line Products Inc., as the parent corporation for her premiere product. By Jan. 1, both Tech-Line and GlassMat were ready for business, and Livingston has sold the office mat to more than 300 residential and commercial accounts. GlassMat's current clientele includes the Denver-based Financial Architect, Gunbarrel's 1st Bank and the city of Boulder City Attorney's Office.

Livingtson says she's already made a good profit and developed a good customer base mostly through word of mouth. The entrepreneur also sent mail solicitations, advertised with local newspapers and joined the Boulder and Broomfield chambers of commerce.

Leonard Johnson, partner at the Boulder CPA firm Johnson, Kightlinger, Graham, heard about GlassMat this spring from a client and subsequently purchased GlassMats for himself, his secretary and his wife's home office

"(The GlassMat) is a superior product," says Johnson, noting that the firm intends to eventually outfit its other offices with Livingston's product. "It's like moving up from a Ford Pinto to a Cadillac. They're moderately priced for what you get, and it looks a lot sharper in the office as well."

Glamour is a strong selling point for this upscale mat that knows no other similarly styled competition.

"We get a lot of comments that it's very nice-looking," says Billy Stone, office services provider for Boulder-based Faegre Benson LLC, which has three Livingston mats. "Once we got them in, they seemed to be kind of an eye-catcher."

Livingston attributes GlassMat's aesthetic appeal to its unique material.

"The sheen and the shine lights up your office," she says. "The element of light that comes off the glass is really incredible."

Incredible indeed, but, in the interest of a pending patent, Livingston remains mum on the material and manufacturing process, noting only that a Denver-area supplier ships the GlassMat material to her home office.

Livingston, who functions as Tech-Line's founder, owner and sole employee, then cuts the material and installs the pre-ordered mats in offices throughout the Boulder-Denver area. GlassMat comes in four standard sizes but is easily custom-cut to fit unusual office designs.

Although quite pleased with the salability and success of GlassMat, Livingston is already working on two other creations for Tech-Line Products.

"I just sit around and think about things," says Livingston, who manages Tech-Line as a full-time occupation. "If there's anything frustrating, I try to think of a solution. In your everyday life, there's always something that you wish could be designed differently or done differently."


---
WXAN-FM Radio Commercial # 1 - August 2005
Has your company or office manager discovered the revolutionary new GlassMat! It's the permanent solution to temporary plastic chair mats...GlassMats won't crack--won't bend--and never wear out! From the very first time you use your new GlassMat, you won't believe what you've been missing. The GlassMat is attractive and elegant...it's easy to clean, with no carpet damage..friction free and anti-static..reduces frustration and fatigue and enhances your floors and furniture! GlassMats are transparent and scratch resistant, and feature a lifetime warranty. GlassMat is truly the affordable, elegant and permanent solution for any office environment, and come in four convenient sizes, with custom sizes, shapes and colors available! Call this number to order your GlassMat today..303-516-4014...that's 303-516-4014. GlassMat is a product of Tech-line products in Boulder, Colorado. And they can ship your GlassMat to you today. GlassMat...It can change your way of office living!
---
WXAN-FM Radio Commercial # 2 - August 2005
Do you sit at your desk hour after hour...day after day..and feel fatigued dragging your office chair around on worn-out carpet...or a plastic chair mat that seems to drag you down by the end of the day. Then it's time you became introduced to the new GlassMat...the permanent solution to temporary plastic chair mats. The GlassMat enables you to glide smoothly and effortlessly, reducing fatigue and increasing productivity while providing you with excellent back support! You simply won't believe what you've been missing. The GlassMat is attractive and elegant..it's easy to clean with no carpet damage..it's both friction free and anti-static and carries a lifetime warranty. The GlassMat is also transparent and scratch resistant and gives your office a truly professional look and feel! Whether it's in your office at work or home..The GlassMat is perfect for any environment! The GlassMat comes in four convenient sizes...as well as custom sizes, shapes and colors. Order your GlassMat today by calling 303-516-4014..that's 303-516-4014. GlassMat is a product of Tech-Line Products in Boulder, Colorado. GlassMat--it can change your way of office living!
---


Article taken from rockymountainnews.com

Business ventures, October 8

October 7, 2005

Tech-Line Products Inc.

Price: $220 to $275

Where you can get them: direct from company

Business owner: Marsha Savin Livingston

Location: aunbarrel (near Boulder)

Tidbits: Glassmat is a chair mat that goes under the wheels of the chair to prevent streaks in linoleum, dents in carpets and marks on hardwood floors. The mat really is made of glass. Marsha Savin Livingston quit her day job as a paralegal to start Tech-Line Products to market and sell Glassmats two years ago. She sells them to everyone from home office workers to corporations as far away as England. "It's a product that people don't really think about," she said. "It's a huge annoyance and unhealthy when you have one of those cracked plastic mats."

For more information: Call 303-516-4014 or 1-866-516-4014 or visit Glass Chair Mats

Nora Caley, Special to the News
---
University of Colorado's winning Solar Decathlon Team thanks GlassMat for their generous contribution and wishes them a million sunny days!
Visit their website - http://solar.colorado.edu/